21.10.2022
Vice President of the EU Commission visits Carbfix
An EU delegation led by Maroš Šefčovič, Vice-President of the European Commission, visited Carbfix and ON Power today to learn about the operations of both companies.
The Vice President visited Carbfix and ON Power, both subsidiaries of Reykjavík Energy, in the company of, among others, Lucie Samcová-Hall Allen, Ambassador of the EU to Iceland, and Kristján Andri Stefánsson, Ambassador of Iceland to the EU.
 The delegation was welcomed at the Geothermal Exhibition by Bjarni Bjarnason, CEO of Reykjavik Energy and Dr. Sandra Ósk Snæbjörnsdóttir, Head of CO2 Mineral Storage at Carbfix.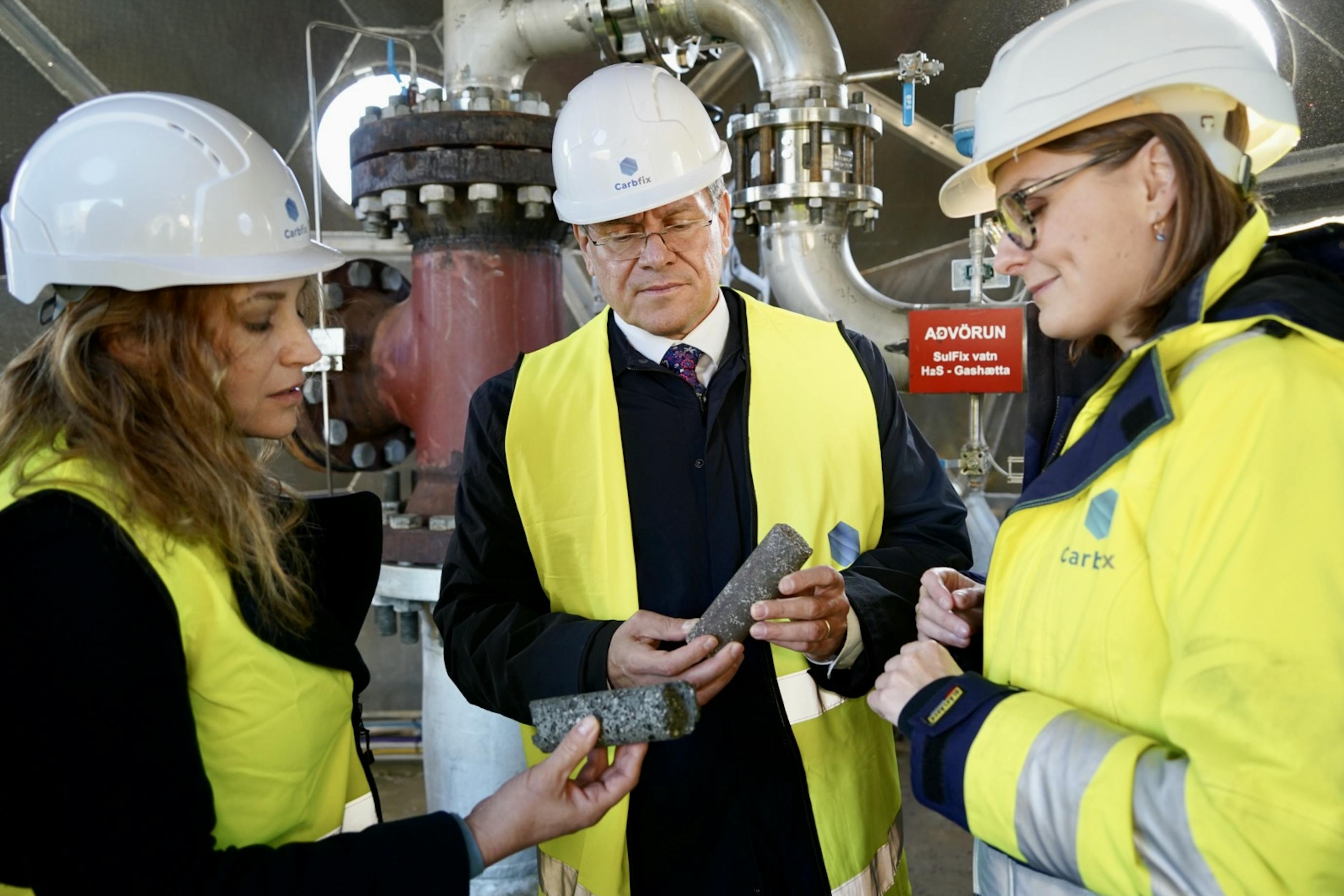 During Šefčovič's two-day visit to Iceland, hosted by the Minister for Foreign Affairs Þórdís Kolbrún Reykfjörð Gylfadóttir, he will meet the President of Iceland, Guðni Th. Jóhannesson, Prime Minister Katrín Jakobsdóttir, and Guðlaugur Þór Þórðarson, Minister of the Environment, Energy and Climate. Among the goals for the visit to Iceland is to underline European Union's desire to continue its close partnership with Iceland.
Iceland and the EU can collaborate on various topics, such as sharing know-how related to energy and climate. For example, Iceland has much expertise in geothermal power generation and carbon capture, and mineralization.
"The company Carbfix is pioneering a novel technique of rapid underground mineralization – turning CO2 into stone. This is the kind of innovative solution which will help us move towards achieving our climate objectives," was among Mr. Šefčovič's comments made in his speech at the University of Iceland.
"We are grateful for the opportunity to present our work at Hellisheidi today. We look forward to continued and further engagement and dialogue with European Commission to bring forward innovative projects that can bring significant emission reductions. We are aiming for upscaling of our tried and tested technology, an ambition which will be greatly supported by EU Innovation fund," says Sandra Ósk Snæbjörnsdóttir
The digital emissions from this story are an estimated 0.2g to 1,0g CO₂ per pageview.